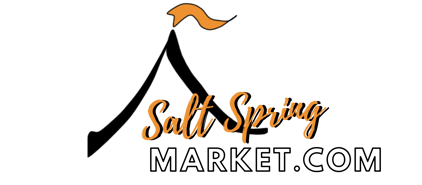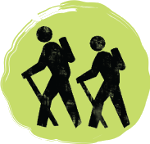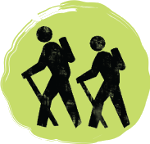 Here is our list of great Salt Spring Island Hikes with pictures, access points and maps - something for all levels of ability. Why not get a picnic from one of the famous Salt Spring Markets and explore the islands.
Please hike responsibly: SaltSpringMarket.com does not warrant that trails are safe or passable, nor that the information provided is completely accurate. Look out for maps at trail heads and markers on trails. Travelling on trails has inherent risks and you assume responsibility for your own safety and protection. Wear appropriate footwear and clothing, and take food and water.
Length: 1.47km
Time: 1 hour
Trailhead: The end of Baker Road - park up right at the end, taking care not to block the driveways down there, and walk back up the road - the trail is just a short way along on your left - OR - The end of Quarry Drive. The trail down to the beach is a few lots along on the south(ish) side of the road and has a PARC sign. Follow this trail down to the beach - the way back to the Baker Road beach access is left along the beach. Special Features: Shoreline section
Length: 780m
Trailhead: Dean Road and Drake Road
Walk through Douglas Fir, Western Red Cedar, Maples and Arbutus. Please note this is a leash smart trail with an on-leash area as you pass the adjacent sheep farm.
Burgoyne Bay - Boulder Field Trail
Trailhead: The trail head is along the Heritage Home trail 400 meters from the parking lot at the top of the large hill between a small stand of evergreens. Look for the trail post near the two mammoth boulders, Zaphod & Beeblebrox, visible on the hillside above.
Mammoth boulders and Caves (if you know where to look!)
The boulder field offers a strenuous exploratory experience amongst some of the largest boulders on Salt Spring Island. Climb atop, underneath, through and around these large boulders. Look for unique boulders including the upside-down triangle, the boulder wrapped by a tree and even try your hand at spelunking!
Burgoyne Bay - Heritage Home Site Trail
Length: 2 km round trip.
Time: 1 hrs
Trailhead: Turn off the Fulford-Ganges road on the bend just south of Salt Spring and Gary Oaks wineries, and follow the road to the end.
Special Features: Burgoyne Bay offers beautiful views and diverse vegetation to explore including Douglas Fir, Hemlock and Western Red Cedar as well as, Arbutus and Garry Oaks, meadow flowers as well as opportunities to see aquatic animals, birds and more. Check out the surprising display of daffodils in the spring!
The trail to the right from the end of the lower car park winds through some lush forest and takes you to a rocky outcrop with a lovely little (very little) beach and some low rocks right down on the water - a great place for a lunch with fantastic views out over the ocean. If you look around you can find signs of the homestead that used to be here - and in the spring the daffodils still come up. Its not a very long hike but its great for some fresh air and scenery, and you can always combine it with some of the other trails in the park.
Channel Ridge Trail Network
Length: Over 15km of trails
Trailhead: Various - please see map on CRD website
Many kilometers of hiking with routes to suit all levels - the trails are numbered and well signed and there is a trail map available on the CRD website. This trail network includes forest, viewpoints over St Mary's lake and open areas. Most of the trails are open to hikers, non-motorized cyclists and equestrians. Trails crossing Watershed Preservation Society lands are only open to hikers. These trails are marked by solid lines on the CRD map and are clearly marked with signs on the trails. Channel Ridge offers an extensive network of trails that are accessible through an agreement with the owners of Channel Ridge Properties. The trail system has 8 major access points, as indicated on the map. Numbered junction signs on the trails correspond to the numbered circles on the map.
Length: 1km to Ruckle Park Boundary
Trailhead: From Beaver Point Road take Bulman Road and at the end turn right on Meyer - the trail is clearly marked.
Special Features: A lovely crescent shaped beach at the end - perfect for a lunchtime picnic.
Stroll down an enchanted trail that meets up with the Ruckle Park trail network near Yeo Point. The east facing beach at the end is a beautiful spot for lunch. There is a short signposted side trail that takes you to a view over Cusheon Cove, and as an added bonus there is a great pebble beach at the end of the main trail making this an ideal short hike with kids, or an interesting access point to the Ruckle Park trails - once you reach the cross-trail at the back of the beach turn left for Yeo Point, straight on for the beach or right to head into Ruckle Park.
Length: 2km Loop
Time: Allow 45 minutes
Trailhead: From Ganges, make your way toward the village of Vesuvius. The trail can be accessed from two locations; Broadwell or Sunset Drive. Watch for signs.
Special Features: Offers various trails to enjoy over meadows, through temperate rainforests and over bridges. Very popular with dogs (and their humans!)
This fairly level trail is an easy walk for most ages. A lovely meandering creek is languid and soothing to refresh visitors under the cool forest canopy of hot summer days. In fall, winter and spring water rushes over large boulders and small falls to create an exciting and noisy backdrop to invigorate all the senses. Rest benches along the route allow for quiet contemplation. Do not disturb the creek bed as it is a salmon spawning stream around November.
Length: 670 meters one way (1.3 kilometres return)
Time: Allow 20 minutes
Trailhead: Whilst there is an entrance off Robinson Road the entrance is off 'the dip' a fast moving stretch of road with nowhere to turn around. Recommend instead that you enter this delightful but short linear trail off Stark's Road. Trailhead is on the South side about midway along Stark's Road.
Special Features: Endangered Trillium lilies, Beaver Dam, Frost Flowers. Although small, the trail through Dunbabin Park crosses four bridges, a small creek and is edged by a pond on its west side.
This short linear trail wends up and down, alongside and over a rainforest creek, past a beaver dam (and beaver-damaged trees) and is a great short hike to freshen up or get a taste of temperate rainforest. Endangered Trillium lilies can be found in the spring, as well as the species at risk the red-legged frog. Barred owls can be heard and occasionally seen. And if you find yourself on the trail on a cold winters day - normally when its been below freezing overnight with clear skies - look out for the Frost Flower
Length: various short trails. approx. 10 minutes each
Trailhead: Behind Artspring or at the end or McPhillips avenue on the edge of Ganges.
Special Features: Disc golf!
Easy level trails begin behind Artspring or at the end or McPhillips avenue on the edge of Ganges. Easy walking distance from Ganges, this park, once a campground, is now for hiking and a disc golf park. Also a great place for a natural game of Hide-and-Seek (behind huge logs and gigantic ferns), explore the trails to find the forest tikis or just follow the creek and see where it leads… (Outhouse facilities).
Mount Erskine - Assault Route
Length: 2km one way - Steep Uphill!
Elevation Gain: 391m
Time: 2 hours
Trailhead: Drive to the end of Rainbow Road and turn left onto Collins Road. Drive .8 km (to where the road stops winding). Look for a red trail marker on the left side of the road opposite some large arbutus trees.
Special Features: The viewpoint at the peak of Mount Erskine (436 meters) is one of the island's most spectacular. Fairy doors can also be spotted throughout the Park.
If any of you are familiar with the Grouse Grind in North Vancouver, this is our own mini-version. Its not quite so grueling, and well worth the sweat to get the view from the top. Keep an eye out for the fairy houses on the way up. There is also a secret at the top, but I think to put it online would be to spoil it (and its not just that there is a bench to sit on and a bowl for thirsty dogs!).
BE ADVISED: The trail ascends very steeply and there can be loose rocks. We do not recommend this trail with young children.
Mount Erskine - via Manzanita Ridge
Length: 2.5km one way - Steep Uphill!
Elevation Gain: 233m
Time: 1-2 hours
Trailhead: Head south from Ganges and up Cranberry Road (signed for Mt Maxwell). Watch out for Toynbee Road on your right (there is a farm stand on the corner). Follow Toynbee to the trail head marker on the right (just before Salt Spring Seeds.) Limited parking - please respect the local residents.
Special Features: Amazing views from along Manzanita Ridge
This route approaches Mt Erskine from the south east, via the Manzantia Ridge nature reserve. There are various points along the ridge that afford spectacular views north east across the Gulf Islands to the Lower Mainland, the Sunshine Coast and beyond. What I initially thought were clouds in the beautiful blue sky turned out to be snow on distant mountains. It might even have been Whistler! At the Hydro trail you can also get a view to the south west. We also found an amazing collection of mosses and lichens in flower. This trail passes through a nature reserve with a delicate ecosystem. Please stay on the marked trail and respect areas closed of for the restoration of the natural vegetation.
BE ADVISED: The trail ascends very steeply and there can be loose rocks. We do not recommend this trail with young children.
Mount Erskine - Juniper to Summit
Length: 1.7km one way - Steep Uphill!
Elevation Gain: 207m
Time: 1-2 hours
Trailhead: Take Juniper from Rainbow Road and follow it to the top.
Special Features: TThe viewpoint at the peak of Mount Erskine (436 meters) is one of the island's most spectacular. Fairy doors can also be spotted throughout the Park.
This is one of the easier ways up Mt Erskine (but that doesn't mean its easy!). From the turn around at the end of Trustees' Trail (follow Juniper all the way up) look out for the trail head sign and the magical path heading off between the trees! As you enter the forest you will be treated to amazing carpets of moss, twisted old trees that look like they could come to life and glimpses out to the ocean. There are two left turns off this trail - the first takes you to the top via a less steep more winding route for a slightly less demanding climb (shown in orange on the map). The second will feel more like you are walking straight up the side of Erskine, so if you like a workout, it's for you! Make sure you take one of the two left turns, otherwise you will end up at the Collin's Road Trail head, and a long way from your car! If you take the second turn you will continue to climb through lush forest, climbing up gravelly paths and over smooth cool rocks. You may have to hop over the odd fallen tree, and don't forget to keep you eyes open for the Faerie Homes on the way up. We have tried to mark some of them on the map, but locations may not be exact. From the summit we like to take the the left hand fork which affords sweeping views over Vancouver Island before climbing back down to meet the trail you came up. Make sure you turn right at the T Junction to end up back at Juniper. There are some more Faerie homes on the way down including a couple that are well hidden. If you do decided to go looking for them please take extra care as the paths are steep, slippery and next to a cliff!
BE ADVISED: The trail ascends very steeply and there can be loose rocks. We do not recommend this trail with young children.
Mount Maxwell from Armand Heights
Length: 4km
Elevation Gain: 154m
Time: 2+ hours
Trailhead: At the end of Armand Way
Special Features: Old trees, mossy outcrops and stunning viewpoints.
Mount Maxwell from Armand Heights Length: 4kmElevation Gain: 154mTime: 2+ hoursTrailhead: At the end of Armand WaySpecial Features: Old trees, mossy outcrops and stunning viewpoints.About:This is one of our favourite hikes on Mount Maxwell. A short connector trail from the end of Armand Heights takes you on to the well signed Mount Maxwell Provincial Park trail network. There are lots of options including heading up to the top of the mountain, but we love this 4km loop. Walk between gnarly old growth trees, climb atop rocky outcrops covered in cool green moss and find one of the most spectacular views of the Burgoyne valley. The sweeping vista from Fulford Valley to Burgoyne Bay makes a great backdrop for a picnic!
Mount Maxwell Provincial Park
Trailhead: From Fulford ferry terminal, drive north on the Fulford/Ganges Road for 12.6 km and then turn left onto Cranberry Drive. Route to the top of Mt Maxwell is best suited to 4 wheel drive vehicles although passable by regular vehicles
Special Features: Great view of Fulford Valley
Park at the end of the road up the mountain and follow the trail from the car park and it takes you round a series of amazing viewpoints and loops back round to the access road. There are all sorts of (probably unofficial) side trails and other ways to get up the mountain. There is more information on the BC Parks Site with some info on where the trails are, and some other great nature information here.
LOCATION: Mount Maxwell Provincial Park is located at the end of Mt. Maxwell Road
DISTANCE: Over 6 kilometres of trail
TIME: Allow 2 hours
POINTS OF INTEREST: Baynes Peak, the highest point on Salt Spring Island, offers stunning views south over Burgoyne Bay, Burgoyne Valley and Fulford Harbour as well as the Gulf Islands and Vancouver Island.
BE ADVISED: The road to the peak is steep, narrow and bumpy. Also, use extreme caution along the cliff edge and do not cross over the fence as it is a steep drop
Length: 1.5km
Time: 1 hour
Trailhead: Stewart Road - look for the Parc sign in the car park.
A lovely circular network of trails through lush forest - what a great place for an afternoon stroll. This is also the start point for the trail to Bryant Hill. Note: There are side trails as shown on the Parc map which are not part of this trail network. Many parts of these trails are steep, uneven and covered in fallen trees - we strongly advise staying off them.
Enjoy a spectacular view from the top of Reginald hill down over Fulford Harbour and of Mount Maxwell. Please note there are some steep sections on this trail.
Trailhead: Make your way to the Reginald Hill Strata Development (approximately 1 kilometre from the Fulford Ferry Terminal at the end of Morningside Drive). If driving, park outside the gate and follow the signs to the trail head which is located on the first driveway on the left (approximately 100 meters from the gate).
Elevation Gain: 235 meters
LOCATION: The Reginald Hill trail head is located at the end of Morningside Road
DISTANCE: The main trail is 1 kilometre one way with a smaller unmarked trail at the top
TIME: Allow 2 hours
POINTS OF INTEREST: Enjoy a stroll through the forests of Douglas Fir, Hemlock, Western Red Cedar and Arbutus as well as the Garry Oak meadows at the top of Reginald Hill which offers a splendid view of Fulford Harbour, Mount Maxwell and further south on the small trail, enjoy views of the Gulf Islands including nearby Russel and Portland Islands.
Ruckle Provincial Park - Beaver Point Hall to Yeo Point Trail
Length: 5km one way
Trailhead: Trailhead: Behind Beaver Point Hall
Special Features: Quartz Field, Beach, Ocean Views
This is one of our favourite hikes in Ruckle Park - and maybe on the Island. The trail takes you through lush forest, over a rocky highland and past a quartz field, eventually bringing you out at Kings Cove on the coast. Carry on along a coastal path with amazing ocean views - just before Yeo point is a lovely pebble beach that is great to cool down - remember to pack a picnic and your swimwear in the summer. At the back of the beach you can also turn left and do the 1km hike along the trail to Mayer Road. Carry on to Yeo Point for a view out across the Gulf Islands - there is even a sign letting you know exactly where the end of the trail is! Follow 7-6-5-3-4 on the Ruckle Park trail map.
Please note that dogs are allowed on this trail, but there are a few connections into the rest of Ruckle park where dogs ARE NOT allowed - this is clearly signed.
Ruckle Provincial Park Trail Network
Length: Various
Trailhead: Follow Beaver Point Road all the way to the end.
Special Features: Heritage Farm.
Lots of trails and coastline in this beautiful park as well as a heritage farm. Please note that dogs are not allowed in much of the park. http://www.env.gov.bc.ca/bcparks/explore/parkpgs/ruckle/
Length: 275 meters
Time: Allow 1/2 hour
Trailhead: The intersection of Long Harbour Road at Scott Point Road
Special Features: Walk through a mixed Arbutus, Douglas Fir and Western Red Cedar forest while enjoying the steep rocky shoreline and a small low bank beach at the southern end of the trail network.
Waiting at Long Harbour ferry or just looking for a short walk to a beautiful overlook? Welbury Bay Park offers a beautiful view of it's namesake and a sampling of some of Salt Spring Island's rare and unique ecosystems.