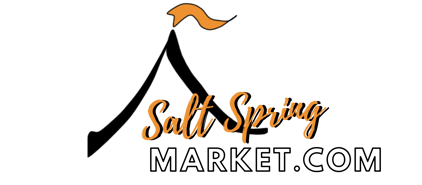 Where is Salt Spring Island? Salt Spring Island is one of the Gulf Islands, part of the collection of islands referred to as The Southern Gulf Islands. It is located in Beautiful British Columbia, Canada and is found in between Vancouver and Vancouver Island, just north of the Saanich Peninsula.
What's in a Name? So is it Salt Spring Island? Saltspring Island? I have even see it written as Salt Springs Island, Saltsprings Island and Salt Spring Islands! Well according to Canada Post the official name is Salt Spring Island. Whatever you decide to call it, we would love for you to explore what Salt Spring has to offer. How Big is Salt Spring Island? There are around 10500 permanent residents on Salt Spring Island, and this number is reported to double with the influx of visitors in the summer. Salt Spring is roughly 27 km (17 miles) long and 14 km (9 miles) wide, which is 185 square km (74 square miles). It takes approximately 45 mins to drive from top to bottom of the island.
The Weather on Salt Spring Island Nestled beside and in the rain shadow of Vancouver Island, Salt Spring enjoys some of the best weather in Canada, a microclimate fondly called the "Banana Belt" (read Banana Joe Clemente's article on Banana Belt Gardening). The West Coast of Canada is a temperate rainforest, so Salt Spring can get a lot of rain in the winter, but we get less than the rest of the West Coast - and our summers are heavenly.
Getting to Salt Spring Island
Where is Salt Spring? Salt Spring Island is part of the Southern Gulf Islands between Vancouver and Victoria, in British Columbia and off Canada's West coast.
Start your holiday with a scenic "cruise" weaving through the gulf islands. Look for migrating and resident whales, otters, seabirds, shell beaches, light-houses and beautiful homes. Salt Spring Island is served by BC Ferries at 3 ferry terminals. Additional ferries are available in the summer months.
Swartz Bay to Fulford Harbour (35 minutes) If you're coming from the Victoria area on Vancouver Island. It's also possible to come from mainland Vancouver by getting a BC Ferry from Tsawwassen to Swartz Bay, then catching a BC Ferry to Salt Spring. - Departs BC Ferries Swartz Bay terminal and sails to Fulford Harbour at Salt Spring's south end. Note: ticket price from this terminal includes return fare.
Tsawwassen to Long Harbour (1hr 15mins to 3.5hrs depending on number of stops) If you're coming from Vancouver and the BC mainland - Departs BC Ferries Tsawwassen terminal and sails to Long Harbour, Salt Spring's mid-island terminal. Note: ticket price from this terminal DOES NOT INCLUDE return fare.
Crofton to Vesuvius Bay (20 minutes) If you're coming from Duncan (south of Nanaimo) on Vancouver Island. Also handy if you are coming from anywhere mid-north Vancouver Island, or from the Vancouver North Shore via the BC Ferries crossing Horseshoe Bay to Nanaimo. It's then a 45 minute drive to Crofton. - Departs BC Ferries Crofton terminal and sails to Vesuvius Bay at Salt Spring's north end. Note: ticket price from this terminal includes return fare. Click for schedule
By Air
Getting here faster couldn't be more fun than traveling by air with affordable seaplane flights from these well-established and trusted providers. With a flight time of approximately 35 minutes from downtown Vancouver, it's how many islanders choose to commute! Harbour Air offers several direct flights daily between Vancouver and Salt Spring Island. Visit: www.harbourair.com
Seair Seaplanes offers daily flights between Salt Spring Island and the mainland. Visit: www.seairseaplanes.com
Travelling Internationally?
If you're coming into Vancouver Airport, you can get a seaplane from SeaAir to Ganges on Salt Spring from the Vancouver Airport Seaplane Terminal. Or get a taxi to Tsawwassen and then a BC Ferry from Tsawwassen to Salt Spring (via Swartz Bay or direct to the Long Harbour Terminal).
Coming from another Gulf Island?
The Water Taxi connects you directly and easily with the other Gulf Islands.
Coming from the United States?
Washington State Ferry If you're driving from the USA, consider getting a ferry from Anacortes in the USA to Sidney (near Victoria on Vancouver Island). It's then a 10 minute drive to Swartz Bay to get a BC Ferry to Salt Spring Island.
MV Coho (Black Ball Ferry Line) The M.V. Coho provides a classic ship experience linking Victoria, B.C. on Vancouver Island with Port Angeles, WA, USA on the scenic Olympic Peninsula. The passenger and vehicle ferry provides year round daily service. Enjoy this scenic 90 minute crossing as part of your next vacation. Port Angeles is just a 2.5 hour drive from Seattle, WA.
Getting Around Salt Spring Island.
Salt Spring Island is roughly 27 km (17 miles) long and 14 km (9 miles) wide - just 185 square km (74 square miles). You have many options for getting around Salt Spring Island - even if you don't have or bring a car. These include cycling, car or scooter rental, taxis and our very own bus service. Salt Spring is also a popular place to hitch-hike, and you may see 'car-stop' signs, part of a scheme to formalise ride-sharing on the island. Car Hire - and Scooter Rentals You can rent a car from Salt Spring Car & Scooter Rentals based in Salt Spring Marina, just outside of Ganges Village. If you call ahead, they will pick you up from the ferry! A scooter can be a fun way to see everything Salt Spring Island has to offer. They are easy to drive (you'll get a lesson before you set off) and helmets are provided as part of the rental. You can rent a scooter from Salt Spring Adventure Co. or Salt Spring Car & Scooter Rentals Booking ahead is recommended to guarantee your rental especially in the summer months. Salt Spring Transit (Bus Service) Operated by Ganges Faerie Minishuttle, the Salt Spring Island Transit bus system just keeps growing! It serves all three ferry terminals on every day of the year except Christmas and New Year's Day. Our buses have bike-racks that carry up to 2 bicycles on the front. Get your Salt Spring Bus Transit Rider's Guide here >> Got transit questions? Call 250-538-4282. Cycling Salt Spring Island Residents of all ages cycle all over the island. You can rent a bicycle at Salt Spring Adventures or even buy one at Outspokin' Cycles. To learn more about what it's like to cycle on Salt Spring Island, visit our Cycling Page Taxis We have two fully licensed taxi services. These are Amber Cab Company and Silver Shadow Taxi Company. Silver Shadow Taxi has 4 cabs, call (250) 537-3030 to make a booking. Water Taxi Gulf Islands Water Taxi connects you directly and easily with the other Gulf Islands.
Did you know Salt Spring Island has its own Currency? Salt Spring Dollars is a community currency issued by the Salt Spring Island Monetary Foundation and tourists and locals can all enjoy using this novel currency. Salt Spring Dollars features artwork by local artists including Robert Bateman, Carol Evans, Jill Louise Campbell, Carol Haigh, and Warren Langley. The $50 silver coin was designed by Thomas McPhee and crafted at the nearby Lasqueti Mint.
Even More About Salt Spring Island A lot has been written about Salt Spring Island. For more information read this excerpt from "Island of Clear Appeal" by Carl Duncan, distributed by Los Angeles Times Syndicate.
Official Tourist Information The Tourism Office is open: 9am - 5pm July/August 10am - 4pm April to June & September/October 11am - 3pm November to March Phone: 250-537-5252 Toll-free Phone: 866-216-2936 Email: chamber@saltspringchamber.com
Villages on Salt Spring Island
Ganges is the main town on Salt Spring, with an eclectic selection of shops, restaurants, art galleries and attractions. It is centrally located on the east side of the island and overlooks a beautiful marina and the Salish Sea. With the famous Saturday market and array of local goods it's definitely a focal point of the island - but there are many other things to do!
Fulford village in the south end of the island has a small selection of great shops, a local grocery store, restaurant and cafes. Fulford is where you catch the ferry to Swartz Bay on Vancouver Island. From there you can head to Sidney, Victoria or catch a connection to Tsawwassen in Vancouver.
Vesuvius Bay is one of the sunniest spots on the island. With a west-facing beach, the sun warms up the rocks and the sea making it a great place to swim. There is the Seaside Restaurant to get some great fish and chips and The Vesuvius Store for a cup of coffee, tea and essentials. Vesuvius is also where you catch a ferry to Crofton. From there you can head to Nanaimo and a connecting ferry to Horseshoe Bay, explore Duncan, Cowichan Bay and the rest of Vancouver Island.
Fernwood is a popular spot in the north-east of the island. In Fernwood you'll find the Fernwood Cafe, Fernwood Dock and Beach and along North End Road some great little B&Bs with views out over Galiano Island and Active Pass. Salt Spring Island Activities Learn more about what you can do when you visit Salt Spring including Where to Eat, Local Events, Things to Do, hiking our wonderful trails and enjoying our lakes and beaches.
History & Heritage
Salt Spring Island has a long history of human habitation. The island's first church built in 1885, St Paul's Church in Fulford, is still in use. Salt Spring has an awesome little heritage museum called The Bittancourt Museum located at The Farmer's Institute on Rainbow Road in Ganges. And, if you want to read about the history of Salt Spring Island, Salt Spring resident Charles Kahn wrote a book: Salt Spring, The Story of an Island. First Nations on Salt Spring Island From Salt Spring Archives: "The island's history is a microcosm of British Columbia history, a long period of aboriginal habitation followed by a frontier society of loggers, fishermen, farmers, and even some miners. Salt Spring is part of the traditional territory of the Saanich, Cowichan, and Chemainus First Nations, and aboriginal use of the island dates back at least 5,000 years. Permanent settlements fluctuated over the years with the main centres of population at HwnJ'nuts (Fulford Harbour), Shiyahwt (Ganges), StsBth (Long Harbour), and Puqdnup (Hudson Point). A major epidemic in the 1780s and subsequent warfare with northern peoples shifted resident populations to villages on Vancouver Island, Kuper Island, and Valdes Island from which the various families continued to access their lands and resources on Salt Spring. Aboriginal people remained at the present-day Tsawout Indian Reserve on Fulford Harbour until the 1920s, making this the longest continually occupied place on the island."
Early Settlers In 1857, nine slaves who had bought their freedom arrived in the Vesuvius Bay area. At the time, the island was uninhabited apart from first nations people using the island and beaches for seasonal fishing and hunting. In fact Salt Spring has the oldest farm in all of British Columbia which is now part of a 1,200-acre provincial park called Ruckle Park. The original family home was built by Henry Ruckle in 1877 and still stands, nestled in amongst other heritage buildings, behind the barn and near the apple orchard. The first Salt Spring Island Fall Fair was in 1896 and the explorer Edward Mallandaine said in his BC Directory in 1887, that Salt Spring Island "will always be remembered as absolutely the first agricultural settlement in the then Colony of Vancouver Island.
" Hawaiians (Kanakas) on Salt Spring Island Many Hawaiians (who called themselves Kanakas) also settled on Salt Spring Island - often after years working and exploring with the Hudson Bay and other Companies. Some of these Hawaiian settlers still have descendants on the island - and early Hawaiian graves are found at St Paul's Church in Fulford. Although Hawaiians may have settled as early as 1853, in 1869 Kiave (Kiavihow), is noted as pre-empting 160 acres at Isabella Point in Fulford Harbour on Salt Spring. Other Kanaka followed, establishing property and planting orchards.
Multicultural Salt Spring Early on Salt Spring's residents were mostly British immigrants (English, Scottish, Irish), but many of the first Salt Spring residents were African Americans from San Francisco, escaping their previously oppressive environment. Also included were other Americans, Australians and Europeans who had been attracted to Canada as part of the gold rush and some people, like the Hawaiians, who were former employees of the Hudson's Bay Company. In 1895, the island's then Anglican minister wrote: "The present population of the island is estimated to be 450. A large number of different nationalities are represented. There are approximately, old and young, 160 English (or Canadians), 50 Scotch, 20 Irish, 22 Portuguese, 13 Swedes, 4 Germans, 2 Norwegians, 34 Americans, 90 Halfbreeds, 40 Colored, or partly colored people, 6 Sandwich Islanders [Hawaiians], 10 Japanese, also 1 Egyptian, 2 Greeks, 1 Patagonian." Salt Spring's Farming Reputation Begins By 1900, the first inn was available for travellers and there were 80 documented farms and Salt Spring was already known for its large fruit harvests. In 1904 Salt Spring Island Creamery opened and the diary along with poultry and sheep farming led to Salt Spring earning a reputation for quality food and produce. Salt Spring is still famous for its lamb today.
People Begin to Holiday on Salt Spring Island By the 1930s, people were holidaying on Salt Spring Island - especially from Vancouver and Victoria - and businesses sprung up to take care of them. By the 1950s Salt Springers were subdividing land to support the vacationers and provide more services. Artists arrive In the 1960s, artists and craftspeople of every kind imaginable began arriving on the island seeking an alternative lifestyle and inspiration from the island's natural beauty and quiet. And the island has grown to have an international reputation for arts and crafts. These days the famous Saturday Market highlights our key exports - produce and art. In addition, many people seeking healing and to escape the city have moved here full time, and we have health and wellness professionals of every kind imaginable, as well as being a mecca for yoga. Today Salt Spring's year-round resident population is now at approximately 10,500 and consists of farmers, artists & artisans, performing artists, healers, caregivers, free-thinkers and more. Many islanders are escaping the cities and fast-paced modern lifestyles. A growing segment of the population is what we call "digital workers", people attracted to the beauty and peace of Salt Spring Island who work online over the internet, and thus can work anywhere in the world!
Farming on Salt Spring Island Local farmers, growers and gatherers are the backbone of Salt Spring Island and the markets. The rural island community relies on market farmers for a regular supply of the best-tasting, freshest organic produce and fish products. Each Saturday and Tuesday reveals an impressive array of lovingly hand-picked produce from local fields and gardens at our markets.
The first Salt Spring Island Fall Fair was in 1896 and the explorer Edward Mallandaine said in his BC Directory in 1887, that Salt Spring Island "will always be remembered as absolutely the first agricultural settlement in the then Colony of Vancouver Island." Farms, farmstands, market gardens and community-run allotments are found all over the island adding a pastoral beauty to the landscape. Many people move here to farm or market garden, and the island has many WWOOFERS (World-Wide Opportunities on Organic Farms) in the summer from all over the world who come to Salt Spring Island to learn organic, permaculture, no-till and many other farming techniques and practices. And of course you can't say Salt Spring Island and farming without mentioning sheep - and our famous lamb. Apparently Queen Elizabeth II requested it whenever she visited BC. We have three key agricultural organizations:
The Farmer's Institute has served Salt Spring's farmers since 1895 encouraging the preservation and development of agriculture and sustainable farming practices on Salt Spring Island. It runs the Fall Fair in September of every year, supporting local farmers and hosting many local events.
Island Natural Growers (ING), a branch of Canadian Organic Growers - runs Seedy Saturday on the second Saturday in February every year. This is a highly social event where locals, farmers and visitors come to buy seeds, plants, attend workshops and reconnect with friends. They also started the Tuesday Farmer's Market.
The Salt Spring Agricultural Alliance is responsible for fund-raising and bringing our own abattoir to the island after the government changed the regulations making it more difficult for small farmers. They are also working together to build a produce centre and community composting project.
These 3 groups make Salt Spring an incredibly strong farming community. In addition, for visitors and locals alike, Foxglove Farm started by Michael Ableman hosts many workshops every year on farming, baking and foraging. Michael Ableman is a leader in the field of organic farming and growing and and hosts the annual Foxglove Farm Festival. Seeds We also have many local seed companies dedicated to preserving heritage and organic seed (of which Salt Spring Seeds is the best known) and a new seed library.